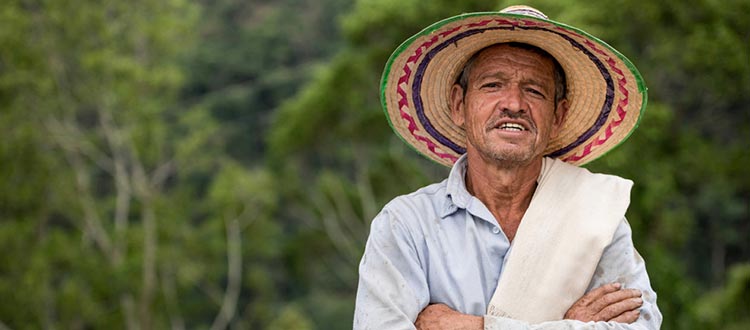 Why only 2% of Sustainability Programmes Succeed
One-off projects and public relations initiatives are almost guaranteed to fail. The key to success lies in linking your impact to the bottom line.
Society is demanding more from corporations and chief executives than ever before. The new standard for success includes more than financial performance; companies must have a positive impact on the world.
And yet only 2 per cent of corporate sustainability programmes achieve their goals, according to consultancy Bain. It's a figure to make you rub your eyes in disbelief.
Even the most high-profile schemes have struggled. The CocoaAction alliance of the world's leading chocolate companies generated flattering headlines when it was launched, intending to improve the livelihoods of 20 per cent of cocoa farming families. But so far there's no hard evidence the alliance is helping households escape poverty.
Companies from Walmart to Disney and Target have made public commitments to sustainability, only to find themselves ill-equipped to deliver. This is the norm, not the exception.
So, what's going wrong? Researchers at Palladium, a global impact firm working in 90 countries across the public and private sectors, interviewed 30 chief sustainability officers to find out. The reasons cited for underperformance included poor integration with the company's core business and the difficulty of engaging with key stakeholders in local communities.
But analysis pointed to something much deeper: a lack of ambition. Companies are simply not thinking big enough.
Christopher Hirst, chief executive of Palladium, explains: "A new school may be needed in an impoverished community and look great in a corporate social responsibility report," he says. "But it's not enough to pull smallholder farmers out of poverty or improve your supply chain in a material way. The drivers of inequality are complex and local context is crucial. Bolt-on initiatives and one-off contributions barely nudge the needle."
When organisations think big, they can deliver fantastic results. Here's an inspiring example. Peru has many small and struggling cocoa farmers, many of whom are ageing while younger Peruvians aren't keen to join the sector. The Peru Cacao Alliance was founded in 2012 to reimagine the whole system. Funding was provided by USAID alongside private sector investors, and Palladium shaped the strategy and execution, recruiting more than 30 partners across the industry. The alliance educated farmers to improve land management and yield, addressed the supply chain, scrutinised markets and contracts, and introduced new technologies.
The results? "The size of the average farm in Peru has tripled," reports Mr Hirst. "Yield has doubled. Farmers are moving out of poverty. The younger generation is getting involved. Peru rose from the tenth largest speciality producer of cacao in the world to the second. It's seen as a model programme for nurturing smallholders in emerging markets."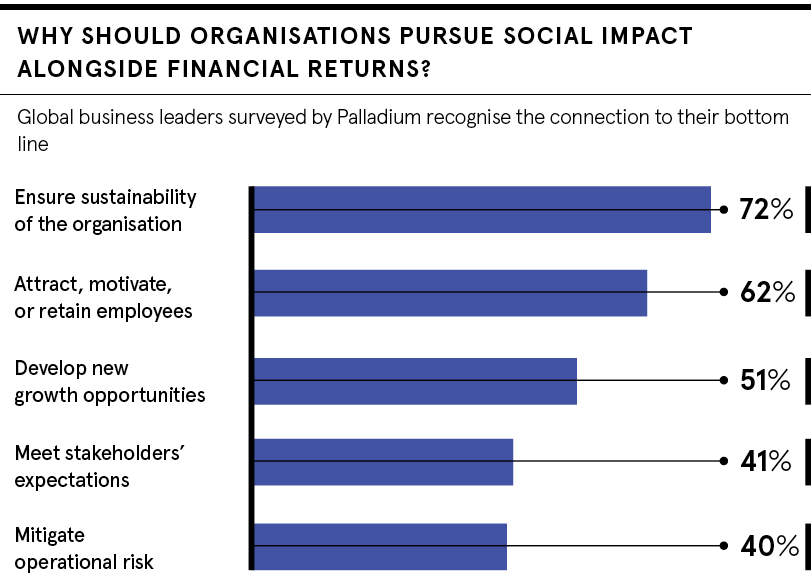 This linking of corporate sustainability goals with commercial goals is key and another factor unearthed by Palladium's research. Social impact can't be pursued just for public relations and it can't be a cost centre. These initiatives have to contribute to the company's core strategy, business processes and ultimately the bottom line or risk joining the 98 per cent that fail.
"With the right approach, companies can see greater business results through social impact," says Mr Hirst. "In London, we've connected social entrepreneurs with the capital they need to succeed. In Uganda, we helped one of the world's most active micro-lenders establish itself as a bank. We're helping an Indian province to fund healthcare for mothers with results-based return on investment for investors. In each case, the financial results go together with social impact, ensuring the long-term prosperity of the projects and the sustainability of the organisations involved."
Naturally, many companies will need help adapting to these principles. Mr Hirst suggests companies work with an established partner that can bring experience, local knowledge, governance frameworks and the ability to execute on a bold strategy to ensure success.
"We believe a better world is possible for everyone and that the starting point is an understanding of how everything is interconnected. No one can progress unilaterally," he says.
"If your company shares this view and wants to make a real impact, we should work together. By thinking big, there's no limit to what we can achieve."
As originally seen in 'The Responsible Business' report published by Raconteur in The Times on 31st May, 2019.