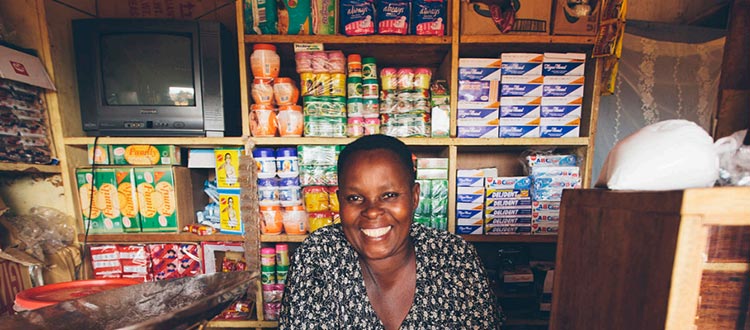 Palladium Helps Shape USAID Strategy for Engagement with Private Sector
Earlier this month Palladium was invited to present at USAID's Private Sector Engagement (PSE) Forum, "Mastering the Art of PSE." This event was part of USAID's ongoing transformation to expand Private Sector Engagement Agency-wide, and preceded Administrator Mark Green's launch of the new USAID Private Sector Engagement Policy. According to USAID, "This policy signals an intentional shift to pursue market-based approaches and investment as a means to accelerate countries' progress on the journey to self-reliance." It's a call to action to work hand-in-hand with the private sector to design and deliver its development and humanitarian programs.
The three-day forum was organised around the themes of Discovering and Sharing PSE Trends, Identifying PSE Opportunities, and Making it Happen: Building Skills for PSE.
Blended Finance
Santiago Sedaca, a Palladium Business Partner and Economic Growth Lead, led a session with Lawrence Camp, Director of the USAID Office of Private Capital and Microenterprise. They presented a primer on blended finance for catalysing transactions, informed largely by a paper written previously by Enclude's Francois Ritchot and Carolijn Gommans, as well as Palladium's experience implementing the Financing Ghanaian Agriculture Project (FinGAP) from 2013-2018.
Santiago and Lawrence focused on the ways blended finance can help to improve the risk/return profile of a transaction for commercial and impact investors. Session participants were asked to compare the cost-benefit of applying a blended finance approach to factors such as time to impact, sustainability, scalability, additionality, and potential for market distortion. Palladium's FinGAP project used this approach by combining pay-for-results methodologies with technical assistance, and effective blend to address barriers limiting the supply of and demand for finance and inhibiting the enabling environment.
Palladium recently acquired Enclude Capital Advisory Services, a regulated entity specifically purposed to raise capital for impact investment transactions, to give blended finance an even more prominent role in our approaches to private sector development and engagement. This will be the case on the Palladium-led Kenya Investment Mechanism Program, which is designed to facilitate financing of enterprises in the agricultural and clean energy sectors in Kenya.
Market-based Approaches
Rick Dvorin, Chief of Party for the Feed the Future Kenya Investment Mechanism Program (and prior CoP of FinGAP), participated in a panel discussion on how to use local capital markets for small and medium-sized enterprise (SME) finance. FinGAP's use of capital markets interventions led to the largest cocoa-buying company listing notes (short-term debt) on the Ghana Stock Exchange. Rather than obtaining its normal commercial bank loan, the issuing company saved four basis points on $90 million (equivalent to $3.6 million). The notes also provided an excellent investment for pension funds, which were able to buy the listed security of the company, rather than buy Treasury bills as their normal investment.
In a separate panel at the PSE Forum, senior technical experts from USAID discussed the uses of development impact bonds, including Utkrisht, the world's first healthcare development impact bond Palladium pioneered with funding from USAID, the UBS Optimus Foundation, and other partners.
Enterprise-driven Development
Roland Pearson, who recently came to Palladium through Enclude, spoke with a group of USAID mission personnel on the uses of the Variable Payment Obligation (VPO) product, which helps small growing businesses with little to no collateral gain access to a specially designed cashflow-based long-term loan, combined with enterprise growth services. Often, whether in agriculture, health, or other sectors, key constraints to enhancing the performance of various supply and value chains are financing and improving the competitiveness of small businesses. The sector-agnostic VPO product can help overcome these constraints. In follow-up discussions with USAID managers, at least three different USAID missions – outside of Latin America, where the product is now being piloted and expanded with USAID and Argidius Foundation resources – expressed interest in exploring the applicability of VPO in their markets.
Santiago Sedaca is a managing partner and leads the Economic Growth and Governance practice of Palladium's U.S.-based business unit. Roland Pearsoncame to Palladium through its recent acquisition of Enclude, and is a director within the same practice. Rick Dvorin is chief of party (CoP) of the recently launched Feed the Future Kenya Investment Mechanism (KIM) Program, and prior CoP of FinGAP. KIM is a new USAID-supported platform to help finance Kenyan SMEs in agriculture and clean energy by mobilizing private capital through innovative incentives and partnerships.
Photo: USAID Private Sector Engagement Policy. Photo credit: Bobby Neptune, USAID